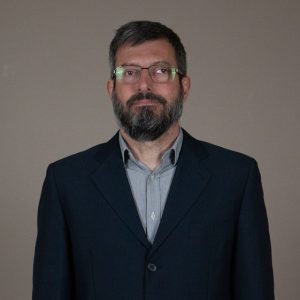 Jacques Mick
Prorector for Research
+55 (48) 3721-7420
pr.propesq@contato.ufsc.br
Jacques Mick is a professor at the Universidade Federal de Santa Catarina (UFSC)'s Department of Sociology and Political Science. He teaches graduate courses in Journalism and in Sociology and Political Science. Professor Mick holds an undergraduate degree in Social Communication – Journalism from UFSC (1992), a master's and a doctoral degree in Political Sociology from UFSC (1998, 2004) and a postdoctoral degree from the University of Lisbon (2014-2015). He was a visiting professor at the Institute of Political Studies (Sciences Po) in Grenoble, France, in 2014 and 2017. He coordinates the research projects "Transformações no perfil profissional de jornalistas no Brasil" (2012-2021), "Journalistic role performance – Etapa Brasil" (2020-2024) and "flexMediaLives – Aferição e análise de riscos biográficos em mercados de trabalho flexíveis", and is part of the advisory committee of the international research project PANCOPOP – Pandemic Communication in Times of Populism. He develops research in the Labor Sociology Laboratory (LASTRO) and in the Social Research Laboratory (Metropolis) at UFSC. He was deputy coordinator and coordinator of the Graduate Program in Political Sociology (PPGSP) between 2015 and 2016, deputy head (2017-2019) and head (2019-2020) of the Department of Sociology and Political Science, and deputy director of the School of Philosophy and Human Sciences (2020-2022) at UFSC. He is a CNPq productivity fellow.